Cell Counting Kit-8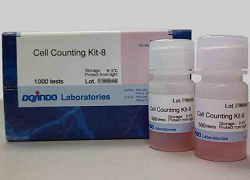 Cell Proliferation / Cytotoxicity Assay
Product code

CK04  Cell Counting Kit-8
| Unit size | Price | Item Code |
| --- | --- | --- |
| 100 tests | $48.00 | CK04-01 |
| 500 tests | $124.00 | CK04-05 |
| 1000 tests | $218.00 | CK04-11 |
| 3000 tests | $452.00 | CK04-13 |
| 5000 tests | $696.00 | CK04-15 |
| 10000 tests | $1140.00 | CK04-20 |


Order
Quantity may be adjusted within the cart.
Component
| | | |
| --- | --- | --- |
| 100 tests | 1 ml×1 | |
| 500 tests | 5 ml×1 | |
| 1000 tests | 5 ml×2 | |
| 3000 tests | 5 ml×6 | |
| 5000 tests | 5 ml×10 | |
| 10000 tests | 100 ml×1 | |
Product Description
Cell Counting Kit-8 (CCK-8) allows sensitive colorimetric assays for the determination of cell viability in cell proliferation and cytotoxicity assays. Dojindo's highly water-soluble tetrazolium salt, WST-8, is reduced by dehydrogenase activities in cells to give a yellow-color formazan dye, which is soluble in the tissue culture media. The amount of the formazan dye, generated by the activities of dehydrogenases in cells, is directly proportional to the number of living cells. The detection sensitivity of CCK-8 is higher than the other tetrazolium salts such as MTT, XTT, MTS or WST-1.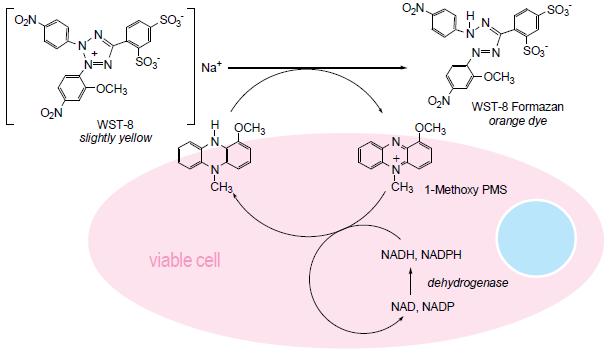 Features 
1) No radioisotope is required as in the [3H]-thymidine incorporation assay.
2) Both tetrazolium salts and formazan are highly water-soluble, eliminating the need to dissolve formazan as in the MTT assay.
3) Higher sensitivity and lower toxicity than other water-soluble tetrazolium salts (XTT, MTS).
4) No reagent preparation is required because it is a single-bottle solution type.
5) Reagent is more stable than other assay kits.
6) Can be used with media containing phenol red.
The "Chromogenic Substrate WST Series" and "Cell Counting Kit-8" were originally developed by Dojindo and are used worldwide for cell proliferation and cytotoxicity tests.
Technical info
Cell Counting Kit-8 requires 3 simple steps:

The handling time of Cell Counting Kit-8 is the shortest among its competitors. Only 15 minutes of handling time is needed for Cell Counting Kit-8, whereas longer handling time is required for both MTS and MTT assay.

Unlike MTT assay, there is no need to lyse cells, so you don't have to worry about the data variation.
Sensitivity
CCK-8 (WST-8) is the highest sensitive dye for the cell based assay.
Sensitivity Comparison using Tetrazolium Dye
Cytotoxicity of Reagents
Only in CCK-8, continious culture is possible without killing cells.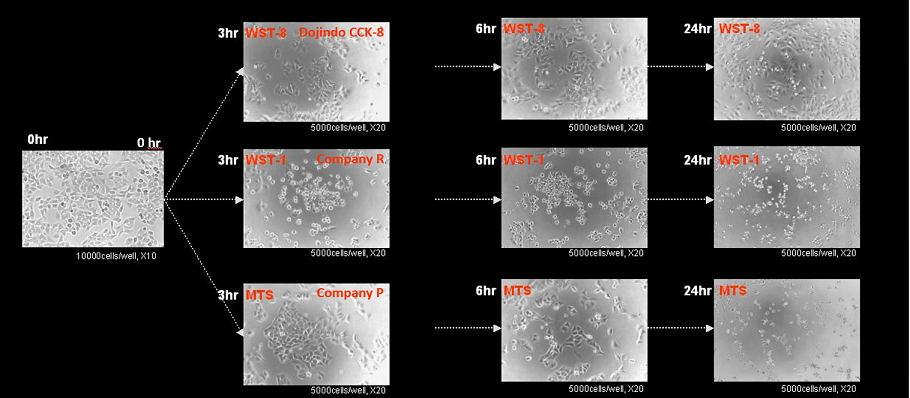 Observation of Cytotoxicity after incubation with each reagent.
HeLa cells were incubated with WST-8 (CCK-8), WST-1, or MTS at 24 hours from addition of those reagents.
Stability
Cell Counting Kit-8 is a ready-to-use solution stable at 4ºC for 1 year. Assays can be completed anytime without thawing and freezing.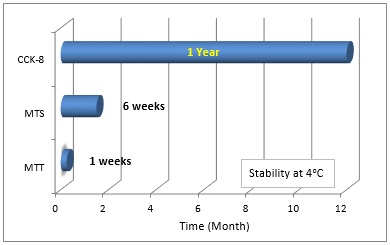 Simultaneous usage of CCK-8 and Cytotoxicity LDH Assay Kit-WST

Since Cell Counting Kit-8 measures the metabolic activity of living cells, the data does not specifically verify cell death. To ensure the data is reflecting the cell death instead of decreased metabolic activity, Cytotoxicity LDH Assay Kit-WST (CK12) is used to increase the data reliability by measuring LDH released from dead cells.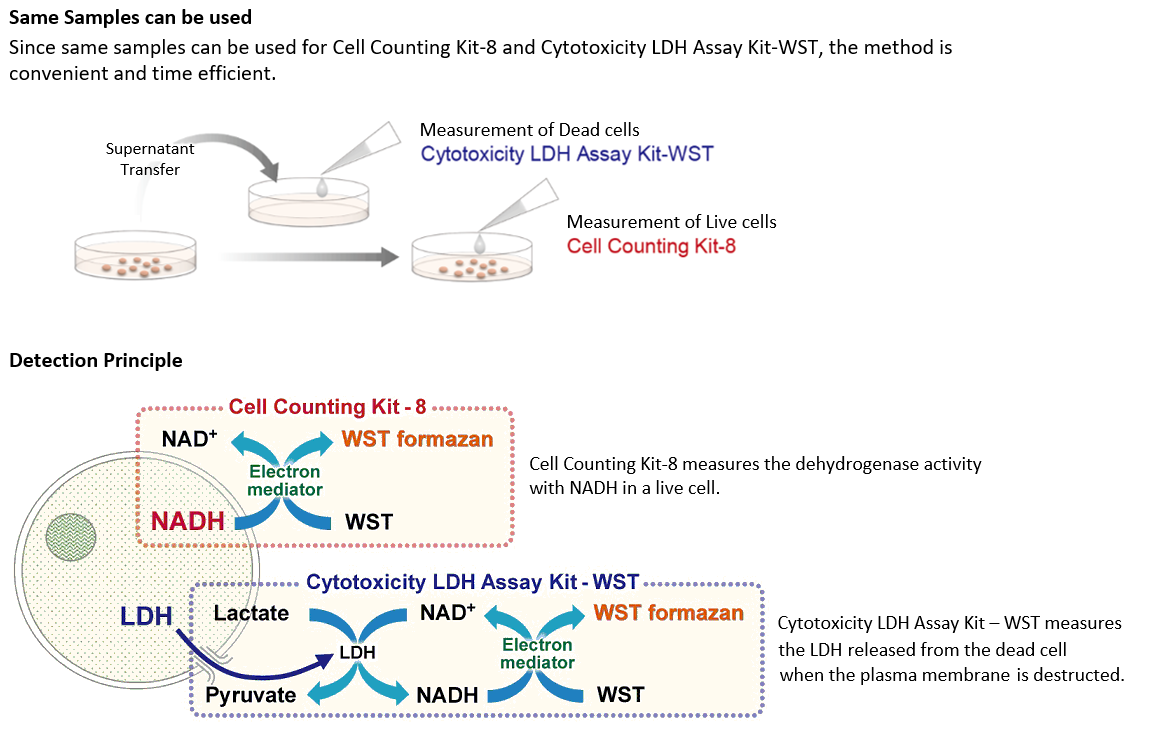 Example Data using Cell Counting Kit-8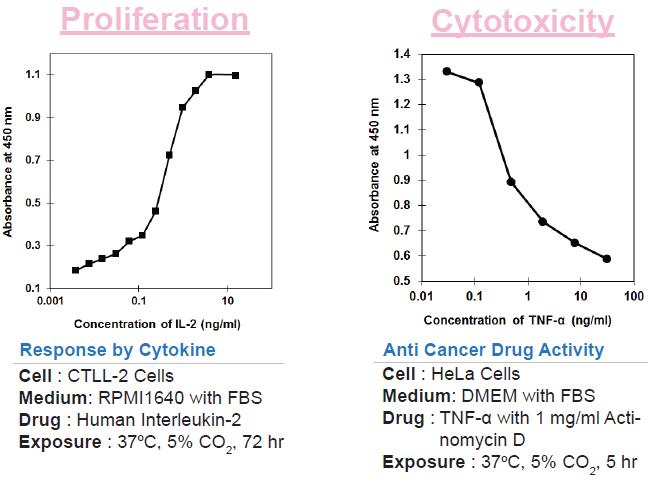 Data for Cell Proliferation and Cytotoxicity Assay
Cell Viability Determination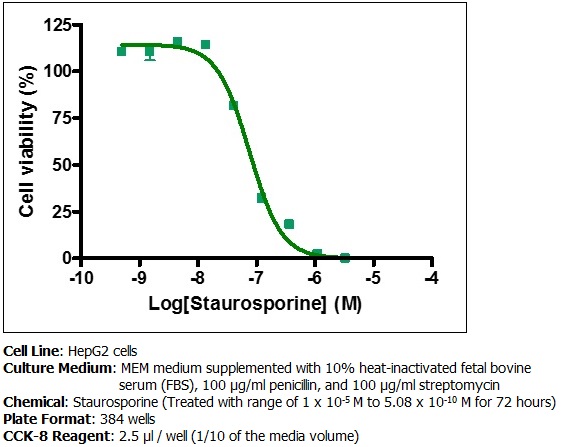 Data was kindly provided by Reaction Biology Corporation.
Absorption property of WST-8
The microplate reader with a 450-490 nm filter is applicable for the measurement.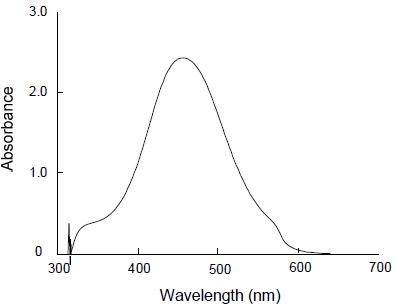 Absorption spectrum of WST-8 formazan dye
Application Data: Alteration of intracellular metabolism of HeLa cells by treatment with fatty acid transporter inhibitors
Fatty acids are important for membrane synthesis and are essential for cell proliferation. HeLa cells were treated with a fatty acid transporter inhibitor, and then the cell proliferation and intracellular metabolism (glucose consumption, Lactate release, and NAD/NADH ratio) were tested.
The results showed a decrease in cell proliferation, an increase in glucose consumption and Lactate release, and a decrease in the intracellular NAD+/NADH ratio, indicating a shift in the metabolic pathway to glycolysis.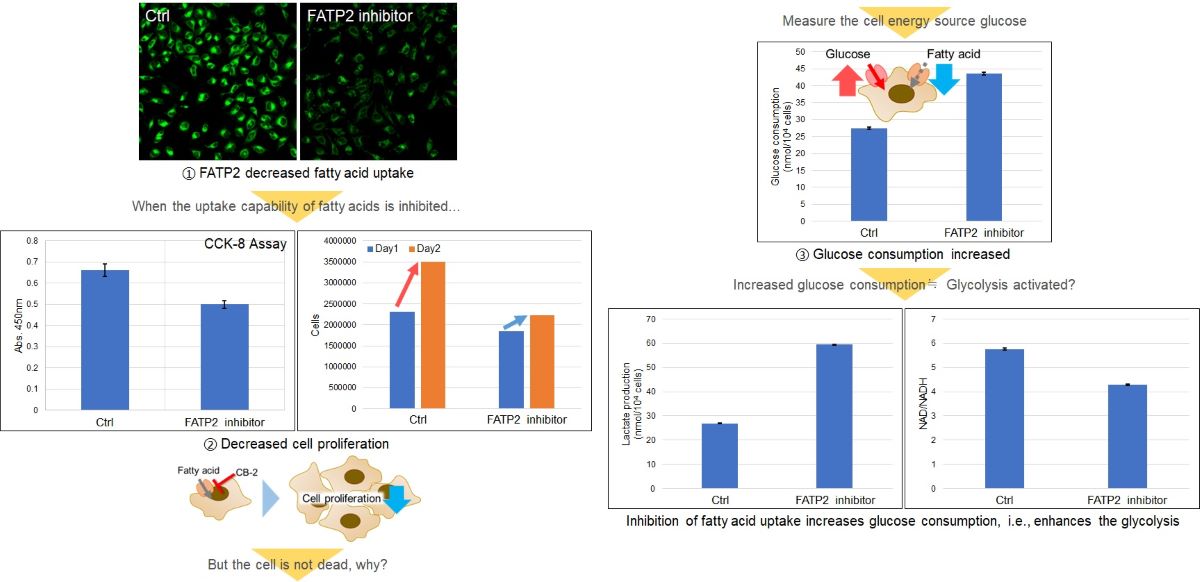 <Related Products>
Cell Proliferation: Cell Counting Kit-8 (Code: CK04)
Glucose: Glucose Assay Kit-WST (Code: G264)
Lactate: Lactate Assay Kit-WST (Code: L256)
NAD/NADH Ratio: NAD/NADH Assay Kit-WST (Code: N509)
References
Open References
Application
1. CCK-8 is used to evaluate antiviral activity of potent compounds against virus infection. In Dr. Xia's research work, each virus (SARS-CoV-2, MERS-CoV, HCoV-OC43, HCoV-229E and HCoV-NL63) was treated with the optimized peptide and then the mixture was added to the cells. They used the CCK-8 to assess the antiviral activity of the peptide. Also, cytotoxicity of the peptide to the cells was measured by the CCK-8*1. The CCK-8 is a useful tool to support developing antiviral agent against virus infection.
"Inhibition of SARS-CoV-2 (previously 2019-nCoV) infection by a highly potent pan-coronavirus fusion inhibitor targeting its spike protein that harbors a high capacity to mediate membrane fusion" , S. Xia, et al., Cell Research, 2020, 30, 343–355
2. It has been reported that the extracts of S. baicalensis have anti-viral activities.
Dr. Liu et.al, determined the cytotoxicity of baicalensis extract and baicalein on Vero cells using CCK-8 in order to evaluate the antiviral efficiency of them against SARS-COV-2 virus.
"Scutellaria baicalensis extract and baicalein inhibit replication of SARS-CoV-2 and its 3C-like protease in vitro" , H. Liu, et al., bioRxiv, 2020.
3. Dr. Chen et al., evaluated the cytotoxicities and inhibitory activities of antiviral compounds (lycorine and brequinar) in Vero, A549 and Huh7 cells using CCK-8 in Zika virus research.
" Antiviral activity of lycorine against Zika virus in vivo and in vitro" , H. Chen, et al., Virology, 2020, 546, 88-97.
4. Dr. Abdull et. al used AI-based platform to develop combination therapy for infection disease. They choose multiple drugs. CCK-8 was used to evaluate drug-induced cytotoxicity in A549 cells.
"Project IDentif.AI: Harnessing Artificial Intelligence to Rapidly Optimize Combination Therapy Development for Infectious Disease Intervention" , A. Abdulla et.al, Adv. Ther., 2020, doi.org/10.1002/adtp.202000034
5. Dr. Wu et al., aimed to identify Single-Domain Antibodies against SARS-CoV-2. Vero E6 cells was used in the evaluation of viral cytopathic effect (CPE)-based neutralization.CCK-8 was used to assess cell viability.
"Identification of Human Single-Domain Antibodies Against SARS-CoV-2" , Y.Wu et.al, Cell Host Microbe., 2020, doi: 10.1016/j.chom.2020.04.023
Cytotoxicity Test for 3D Cultured Model
The cytotoxicity test method for 3D cultured model using Cell Counting Kit-8 has been added to OECD TG492 as the standard method. For details, please Click Here.
Publications based on cell line Click Here.
Q & A
Q

How many cells should there be in a well?

A

For adhesive cells, at least 1,000 cells are necessary per well (100 μl medium) when using a standard 96-well plate.
For leukocytes, at least 2,500 cells are necessary per well (100 μl medium) because of low sensitivity.
The recommended maximum number of cells per well for the 96-well plate is 25,000. If 24-well or 6-well plates are used for this assay, please calculate the number of cells per well accordingly, and adjust the volume of the CCK-8 solution in each well to 10% of the total volume.
Q

Can this kit be used with a 384-well plate?

A

Yes, you can use this kit for a 384-well plate. Add CCK-8 solution with 1/10 volume of the culture medium in a well. If the volume of CCK-8 to be added is too small, dilute CCK-8 in half with the medium and add 1/5 of the volume of culture medium in a well.
Q

Can this kit be used with a 24-well plate?

A

Yes. Add CCK-8 solution with 1/10 volume of the culture medium in a well.
Q

Does CCK-8 stain viable cells?

A

No, it does not stain viable cells because a water-soluble tetrazolium salt (WST-8) is used for the CCK-8 solution. The electron mediator, 1-Methoxy PMS, receives electrons from viable cells and transfers the electrons to WST-8 in the culture medium. Since its formazan dye is also highly water soluble, CCK-8 cannot be utilized for cell staining.
Q

Does phenol red affect the assay?

A

No. The absorption value of phenol red in culture medium can be removed by subtracting the absorption value of a blank solution from the absorption value of each well. Therefore, culture medium containing phenol red can be used for the CCK-8 assay.
Q

Is there a correlation between CCK-8 and the Thymidine incorporation assay?

A

Yes. However, please note that since CCK-8 uses a different assay mechanism from that of the Thymidine assay, so the results may differ. Comparison data are shown in the technical manual, which is available at www.dojindo.com/tm.
Q

A

Since the toxicity of CCK-8 is so low, the same cells can be used for other cell proliferation assays such as the crystal violet assay, neutral red assay or DNA fluorometric assay after the CCK-8 assay is completed.
Q

A

CCK-8 is stable over 6 months at room temperature and one year at 0-5 oC with protection from light. For longer storage, we recommend storing the solution at -20 oC ; CCK-8 is stable over 2 years at -20oC.
Q

I do not have a 450 nm filter. What other filters can I use?

A

You can use filters with an absorbance between 450 nm and 490 nm.
Handling and storage condition
Handling and storage condition
0-5°C, Protect from light